RELIABLE BACKGROUND SCREENING NEWSLETTER – SEPTEMBER 2017
Best Practices to Safeguard Confidential Documents
With more of our sensitive personal information making its way online, it's never been more important to safeguard it.
Hackers and identity thieves need surprisingly little to turn your world upside down, and the easier you make it for them to access these private details, the more likely they are to take advantage.
We've assembled a list of best practices for both document security and online safety. Employing these strategies proactively can help ensure your organization doesn't find itself on the wrong end of a security breach, which could do harm not only to your business, but to your customers, as well.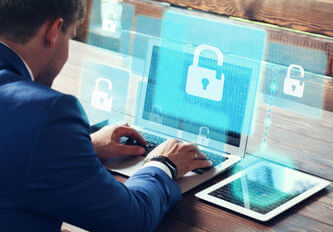 Don't leave sensitive information lying around. Documents like credit card statements and billing invoices, even if they redact some information, can still be used to obtain sensitive data via social engineering.
Shred documents in a secure way. When you no longer need a document with confidential information on it, don't throw it away. Shred it. Keep shredded materials locked up and hire a company to securely transport them away or use a cross shredder to make sure they cannot be reconstructed.
Use anti-virus software. Installing an anti-virus and an anti-malware solution can prevent your computer from becoming infected and from infecting other computers on your network.
Install a firewall. An effective firewall is a staple of business Internet security. It prevents intrusions into your company's network and, in some cases, can also stop a malware-infected machine from pushing data out.
Password-protect important files and systems. Any files or systems containing sensitive information should be password protected. If possible, each user should have his or her own username and password so if a breach does occur, your company can pinpoint the source of the breach.
Don't reuse passwords. If a hacker is able to obtain one password, the odds are good they'll try to use the same password to access other sensitive areas of your company's infrastructure. Use different passwords for all files and systems.
Don't email confidential material. Most email systems are not secure. If you need to send material in this manner, use a supplemental platform with encryption to ensure information stays safe and secure.
Only enter sensitive data into secure websites. When you see "https" in your browser's address bar, it means the website is transmitting and receiving data over a secure connection. If you see "http" instead of "https", do not enter sensitive information.
Taking action to protect your data and increase your Internet security can help protect your business from those with nefarious intentions. You'll find putting the above recommendations in place takes far less time than you'd spend dealing with the aftermath of an intrusion, and will cost you far less in resources and lost productivity.
Rudy Troisi, President
Reliable Background Screening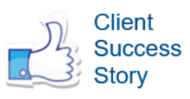 Pure Barre is the largest franchise in the nation that focuses on a total body workout using the ballet barre, a great technique that transforms the female body in a short timeframe.
As the Franchise Administrator, Savanah Atkins is tasked to select only the friendliest, energetic, and motivated people to open their own studio under the Pure Barre brand.

Pure Barre has a current total of 375 franchises. As such, it is critical to run thorough background screenings on all franchisees. In the past, background checks were not being returned in a timely manner, and at times, the information returned was confusing. When Savanah contacted Karen at Reliable Background Screening, the problems were resolved. "All of a sudden, our background checks took 24 hours, it was amazing". Now, when issues arise, Savanah appreciates that she can call Reliable Background Screening for assistance. "I feel like I can call Karen anytime and ask her to walk me through something."
Providing customers with excellent service is one of Reliable Background Screening's key aspects, keeping them one step ahead of the competition. Savanah affirms this when she stated, "it is nice to talk to Karen and Donna, and they don't make me feel like I'm asking a stupid question." After receiving assistance from the experienced and caring staff at Reliable Background Screening, Savanah is more confident in building the Pure Barre brand.
We Appreciate and Reward Referrals
To keep costs in check to provide our quality services at fair prices, we rely on our satisfied clients' referrals to get new clients.
If you are happy with the service we are providing you, we will greatly appreciate you referring us to others like you who also value protecting their brand, reputation, and safety. As a token of our appreciation, we will send you a $25 Amazon gift card.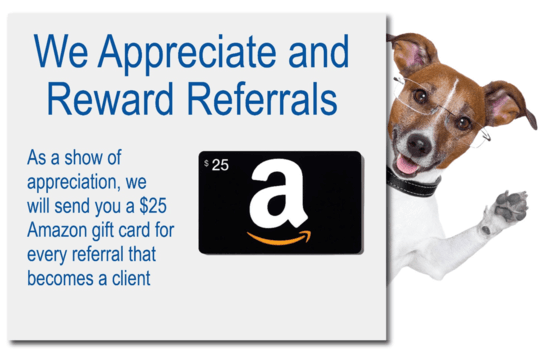 They SHOULD Have Known!
How well do you know your business partner? He or she could very well be someone like Gary Beshara, the co-owner of Marlboro, New Jersey's Belle Vista Country Club.
Beshara was recently found guilty of tax evasion after transferring $3.8 million of the club's money into his own bank accounts. These funds were later used to pay creditors and make purchases for him and his family over the course of three years. Beshara now faces up to five years in prison and a minimum of $250,000 in fines. When he's released, he will probably go back into business and perhaps open another club.
Could you be a partner in his next venture? With a reliable background check, you can ensure the Gary Beshara's of the world don't get anywhere near your capital.
Don't let those with questionable past conduct put your reputation at risk and cause you financial damages! It is imperative to conduct thorough background checks on everyone you do business with.
Reliable Background Screening is widely viewed as the experts in the intricacies of the Fair Credit Reporting Act (FCRA) and other background screening regulations. We take the time to explain these to our clients, in a simplified and practical manner, without charging extra for our expert advice. In a heavily-regulated area such as background screening, you want to partner with those who operate with the highest regard to the laws and regulations.
They SHOULD Have Known! is a monthly column written by Brett Troisi, Vice President, of Reliable Background Screening. Like everyone else at Reliable, Brett's mission is to inform and educate the public of the importance of thorough background screening to protect your company and your brand.


To request information or to ask questions regarding background screening call (833) 946-1989 or click above.