RELIABLE BACKGROUND SCREENING NEWSLETTER – MAY 2017
BIG CHANGES COMING TO CREDIT REPORTS
Big changes are coming to credit reports as of July 1st. The three credit bureaus, TransUnion, Equifax, and Experian agreed to the creation of the National Consumer Assistance Plan (NCAP), as part of a settlement with New York Attorney General, Eric T. Schneiderman.
The most significant change for users of credit reports will be in the decreased reporting of public records, specifically tax liens and civil judgments. Bankruptcies, however, should experience no reduction in their being reported on credit reports.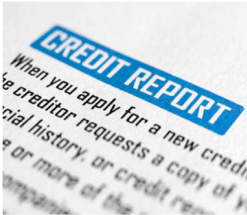 The reason for most civil judgments and tax liens disappearing from credit reports is the NCAP requirements that (1) sufficient PII (personally identifiable information) exist on the record, and (2) that public records be collected and updated at least every 90 days. PII includes name, address, date of birth, and social security number. To be sufficient, at least three of the four PII must be present on the public record. Since most civil judgments and tax liens do not have dates of birth and complete social security numbers, they will largely disappear from credit reports starting July 1st.
For resident screening and tenant screening users, this means that eviction judgments soon will no longer appear on credit reports. Fortunately, there is an alternative. Reliable Background Screening provides a National Instant Eviction Search as a separate product. This product collects forcible detainer and unlawful detainer (eviction) judgments. Resident screening and tenant screening users who are not currently obtaining this separate Eviction Search product should consider raising their application fee to pass through the additional expense of purchasing the Eviction Search product. It should be noted that collection accounts for landlord and apartment debts will continue to be displayed on credit reports.
Other users of credit reports may also find the National Instant Eviction Search product helpful, as it is a way to uncover at least some civil judgments.
Rudy Troisi, President
Reliable Background Screening
We Launched a New Website! (Read more below)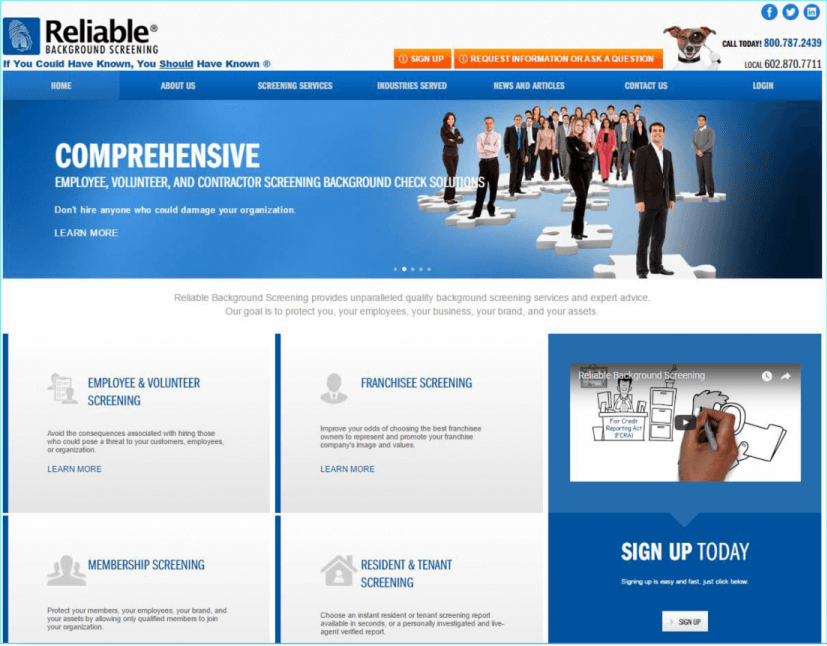 Over the past several months, we worked very hard on a new website and are excited to share it has been launched. The new website provides several features to make information even more accessible. Here is a quick recap of the main changes and improvements:
More graphic interaction using pictures, icons, and shortcuts
Clear listings and an easy-to-navigate menu to find the services you need  Detailed, yet concise, explanation of the various services we provide
Easy-to-find industries and types of organizations we serve
Specific account of how our services are essential and beneficial for different organizations
Convenient 'Contact Us' form
More information about Reliable
Easy access to past newsletters and our blogs that contain a wealth of information you need
To celebrate our new website, we are offering $50 off (or 50%) the set-up fee (per account) for all new accounts opened between now and June 30, 2017 – Just mention "New Website Discount" when you call. So go ahead – click on the button below and visit our new website today!
They SHOULD Have Known!
The Boston Globe reported that over 8,200 Uber and Lyft drivers were terminated after failed background checks. More than 300 of the drivers had a felony conviction and 51 drivers were registered sex offenders. Concerns for passenger safety have grown the past several years due to multiple sexual assault charges against these ride-hailing drivers.
When a person calls for a driver to come pick you up from the airport, or after a night out with friends, or to simply be transported from point A to point B, one should never have to second-guess his or her safety.
Companies can be liable for the behavior and conduct of contractors they employ to serve their customers. Customers assume that if you directed a contractor to provide services on your behalf, that person has been properly screened and no harm will come to them.
Are you conducting thorough background checks on everyone who represent you and your company? It is imperative to conduct thorough background checks on all employees and contractors prior to employment. Don't let those with questionable past conduct put your reputation at risk and cause you financial damages!
Reliable Background Screening is widely viewed as the experts in the intricacies of the Fair Credit Reporting Act (FCRA) and other background screening regulations. We take the time to explain these to our clients, in a simplified and practical manner, without charging extra for our expert advice. In a heavily-regulated area such as background screening, you want to partner with those who operate with the highest regard to the laws and regulations.
They SHOULD Have Known! is a monthly column written by Brett Troisi, Vice President, of Reliable Background Screening. Like everyone else at Reliable, Brett's mission is to inform and educate the public of the importance of thorough background screening to protect your company and your brand.


To request information or to ask questions regarding background screening call (833) 946-1989 or click above.