RELIABLE BACKGROUND SCREENING NEWSLETTER - MARCH 2019
Why Your Employee Screening Disclosure
Must Be "Clear and Conspicuous"
Last month I wrote about the Ninth Circuit Court of Appeals' ruling in Gilberg v. California Check Cashing Stores, and the significant impact it may have on determining if an Employee Screening Disclosure and Authorization (D&A) form is compliant. The possible consequences are so severe, I am writing about it again.
The FCRA – Fair Credit Reporting Act – the federal law that governs employee screening – imposes a statutory fine of up to $1,000 per individual for technical violations of this law. When class action lawsuits are filed, the law allows a five year look-back period to see how many applicants applied (not just those who were hired) with incorrect disclosure forms.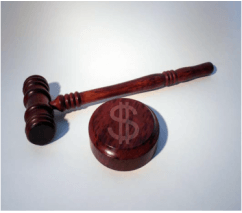 This is why these class action lawsuits for technical violations of the FCRA become theoretically so expensive, attracting predatory plaintiff attorneys who develop law practices that primarily pursue these cases. This affects even smaller companies, as hundreds of people usually apply for any job posting, and class action lawsuits go back five years. One hundred applicants represent a $100,000 fine… one thousand applicants, a $1 million penalty – devastating amounts for most small businesses.
Further, there are behemoths of companies that are being targeted for not having "clear and conspicuous" employee screening disclosures. In January, a class action lawsuit was certified against Walmart, with a class size of about five million individuals – representing a potential statutory fine of $5 Billion. Although this case has not yet been adjudicated, the possible multi-billion-dollar liability is a serious threat that must be mitigated.
Other notable companies that have settled or proposed million-dollar lawsuit settlements for the issue of "clear and conspicuous" employee screening disclosures over the past year include: a PepisCo subsidiary ($1.2 million); Frito-Lay ($2.4 million); and Delta Airlines ($2.3 million).
The FCRA (Section 604 (b)(2)(A)(i)) has always required a "clear and conspicuous" employee screening disclosure, and that it be "in a document that consists solely of the disclosure." The FCRA has required that this disclosure's sole purpose be the background check, and that it be separate and distinct from other documents – including especially the general employment application. Now, based upon the Ninth Circuit Court ruling above, additional state-mandated employee screening disclosures, should also be separated from the federal employee disclosure form.
The bottom line is if you have not reviewed your employee screening disclosure form, you should do it now to mitigate potential lawsuits and statutory fines. Seek out the advice of an employment attorney who is an FCRA expert (not all employment lawyers are FCRA experts), or the expertise of a reliable background screening company that is an FCRA expert (not all background screening companies are FCRA experts, either).
Rudy Troisi, L.P.I., President and CEO, Reliable Background Screening
We Had a Great Time at the 2019 IFA Convention
Late last month we had the opportunity to meet thousands of franchisors and franchisees during the four-day annual convention of the IFA. This IFA Convention was in Las Vegas, and Reliable has exhibited annually at these Conventions since joining the IFA.
The event provided us with a great opportunity to educate the attendees about the importance of quality background screening, and to learn from the attendees about their concerns and the challenges they are facing.
If you missed the show and would like to talk to us about your background screening needs, or wish to take advantage of the IFA show 'special' we offered, use the button below to let us know and we will contact you promptly.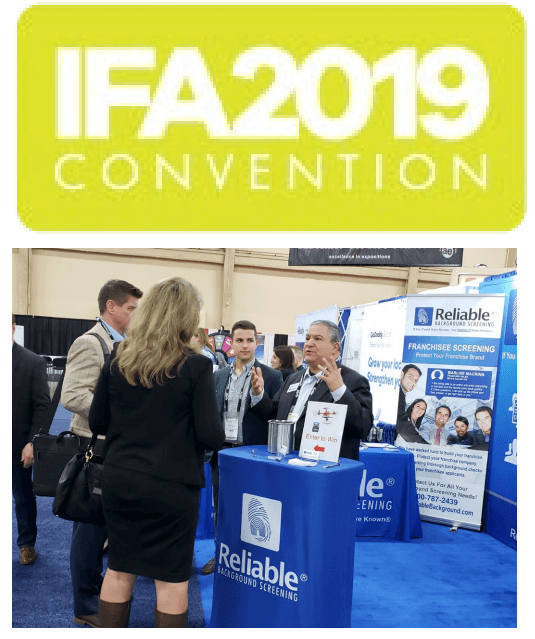 Reliable's Announcement Featured in Greater Phoenix inBusiness Magazine
An article by Mike Hunter in a recent issue of Greater Phoenix inBusiness discussed Reliable's new 'Greater Partner Program'.
The new Preferred Partner Program helps ensure brand uniformity and best practices across entire organizations.
We recently discovered that many of the franchise companies we are working with had a fear about franchisees hiring quality employees throughout their organizations. Reliable now offers an easy way for franchise companies to erase this fear with a new Preferred Partner Program that allows a company's franchisees simple access to a range of background check tools.
Use the button below to see the full press release.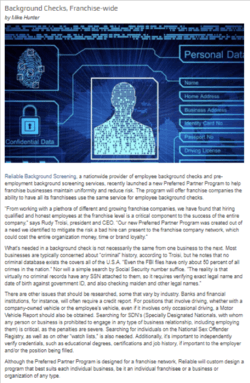 Woman Customer Posts a Video of a Subway Franchise Owner Hitting Her Phone and Cursing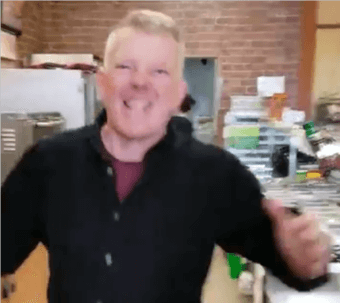 Media outlets reported last week about a viral video posted by a North Carolina customer that showed a franchisee owner of one of the biggest sandwich franchise companies in the world hitting her phone, cursing at her, all the while making rude gestures.
Your brand's reputation and its financials could be at risk when people associated with your business misbehave. In our connected world it is very easy for such images to cause damage… and fast.
Don't risk your investment – Have a knowledgeable background screening company conduct thorough background checks of all your employees and associates.
We Appreciate and Reward Referrals
To keep costs in check to provide our quality services at fair prices, we rely on our satisfied clients' referrals to get new clients.
If you are happy with the service we are providing you, we will greatly appreciate you referring us to others like you who also value protecting their brand, reputation, and safety. As a token of our appreciation, we will send you a $25 Amazon gift card.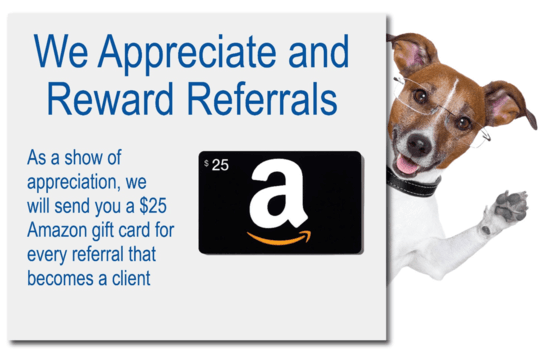 To request information or to ask questions regarding background screening call (833) 946-1989 or click above.