RELIABLE BACKGROUND SCREENING NEWSLETTER – FEBRUARY 2017
E-Verify is Not a Criminal Background Check
Many employers proudly display their E-Verify participation posters, and when asked if they perform criminal background checks on their employees, point to their poster and say, "yes, see we E-Verify."
Unfortunately, E-Verify is not a criminal background check. E-Verify is a free service that verifies the legal status employment eligibility of an individual, but does not check an individual's criminal history.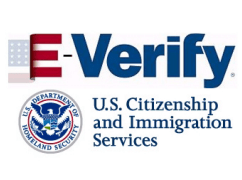 E-Verify can only be used after an offer of employment has been accepted by the individual applicant. However, it cannot be used later than the third business day after the individual has started to work, so basically the employer has three days after the date of hire to verify legal eligibility to work. E-Verify is offered through the U.S. Department of Homeland Security. If performing a web search to find the real E-Verify website, search for the terms "E-Verify" and "Homeland Security" to avoid landing on the website of a commercial provider that will charge you for this free service.
The E-Verify online manual is very clear that this service cannot be used to pre-screen individuals for employment, i.e., E-Verify is not to be used for employee background checks. Rather, E-Verify, which is required by many states, as well as for federal contractors, is a Human Resources onboarding function, which again, must be performed no later than the third day of employment.
For employee background checks, seek out a reliable background screening company that is also a consumer reporting agency (CRA). A reputable CRA can help employers navigate the laws that regulate employee background checks.
Rudy Troisi, President
Reliable Background Screening
They SHOULD Have Known!
We know that apartments and property management companies screen applicants for housing. However, all employers should also make the effort to properly screen their staff and managers.
Whether large or small, Government or private, ALL companies should perform thorough background checks on employees and contractors.
A museum in Chicago found this out the hard way. In December 2015, a female employee for the museum, was accused of stealing more than $900,000 over a sevenyear period. She worked in a position where she handled membership payments, some of which were paid in cash. This allowed her to steal a large amount of money 'under the radar'. The museum also suspected the employee was pocketing cash bar money at membership events.
The museum performed a background check on that employee prior to hiring her, but reported the background check came back clean. After further investigation, a Chicago police report showed the employee had a history of theft, and was previously accused of pocketing cash for returned items from a motor supply company where she worked as a cash register clerk. She was ordered to pay $210 in restitution.
The employee also had a history of embezzlement in the Federal court system. A thorough background check by a reputable background screening company that is also a Consumer Reporting Agency (CRA), would have detected her past history of theft, and saved the museum a lot of time and money. This shows that not all background checks or background screening companies are equal. Hiring qualified, honest employees is a critical component to the success of your company.
Reliable Background Screening is widely viewed as the experts in the intricacies of the Fair Credit Reporting Act (FCRA) and other background screening regulations. We take the time to explain these to our clients, in a simplified and practical manner, without charging extra for our expert advice. In a heavily-regulated area such as background screening, you want to partner with those who operate with the highest regard to the laws and regulations.
They SHOULD Have Known! is a monthly column written by Brett Troisi, Vice President, of Reliable Background Screening. Like everyone else at Reliable, Brett's mission is to inform and educate the public of the importance of thorough background screening to protect your company and your brand.


To request information or to ask questions regarding background screening call (833) 946-1989 or click above.