RELIABLE BACKGROUND SCREENING NEWSLETTER – AUGUST 2017
The Limitations of References and Referrals
Have you ever played a "matchmaker" by introducing two people and it didn't quite work out as you envisioned it would? Don't feel badly… we all have.
When this happens in business relationships, the consequences are much higher! It is very tempting for a business owner or manager to hire someone who was recommended by another employee, a friend, or family member.
The enticement to 'take someone's word' goes beyond just hiring employees. We see vendors being selected just because they provided great references, tenants and residents approved based on a recommendation from a previous landlord, contracts signed with partners and franchisees after a couple of phone calls to associates, and country club membership applications approved based on another member's referral.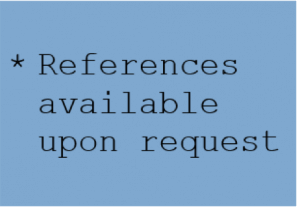 As a matter of fact, on just about every application for any of the above-mentioned situations, there is a section for "references", as if knowing someone guarantees future conduct.
Asking for references and accepting referrals are good practices. Making decisions based only on those without conducting thorough background checks can spell disaster.
Consider the following:
Does anyone ever provide a reference who would reveal anything negative about them?
Do references and referrals really know their colleagues, friends, and family members' criminal histories or aware of their credit blemishes?
Will you have any legal recourse against a reference who neglected to mention something negative they knew about, or worse yet, intentionally provided false information?
References and referrals are nice, and at best, provide an interesting perspective regarding a person. However, references and referrals are no substitute for an objective, quality, and thorough background check.
A quality reliable background screening company searches a variety of primary sources and databases to reveal the history and future obligations of a person. A thorough background check can provide you with the data you need to make an informed decision so that you can mitigate risk and choose the best applicant, whether it's country club membership screening, franchisee screening, resident or tenant screening, or employee screening.
Rudy Troisi, President
Reliable Background Screening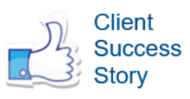 When you know you have something good you stick with it. This is true for Mary Beth who manages an apartment complex. Over 20 years ago, she worked for an apartment community that used Reliable Background Screening to screen all their residents.
When Mary Beth left to work for independent owners, she knew she would continue to use Reliable Background Screening on her own because, "They are just a really good company, they do phenomenal work."
One of Mary Beth's friends has some rental properties and Mary Beth told her she had the best company to run their background checks. The friend replied, "I already have the best." Mary Beth doubted this was true and asked who they used, to which her friend replied, "Reliable Background Screening." Mary Beth was convinced she was in good hands because she insists, "They are the best, If I make a mistake, or if there is something questionable, they pick up on it really quick."
What Mary Beth likes the most about Reliable is their personal touch. She's used a lot of companies that are automated and you never hear from anyone. Mary Beth says Reliable monitors what their customers do, "I am a small building, so I don't give them a lot of business, but they still monitor everything and make it personal. They know what is going on and take the time to educate." Even though Mary Beth has only met Reliable's President and CEO, Rudy one-time face to face, she feels like she knows him and their Operations Manager, Karen really well because they speak so much over the phone. She said about Karen in the dearest terms, "She's my watchdog, she knows long before you do that you've made a mistake."
We Appreciate and Reward Referrals
To keep costs in check to provide our quality services at fair prices, we rely on our satisfied clients' referrals to get new clients.
If you are happy with the service we are providing you, we will greatly appreciate you referring us to others like you who also value protecting their brand, reputation, and safety. As a token of our appreciation, we will send you a $25 Amazon gift card.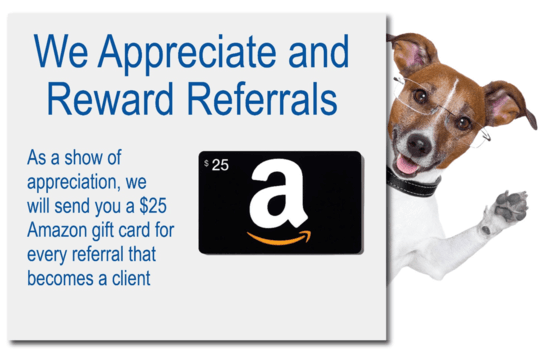 They SHOULD Have Known!
A routine company audit disclosed discrepancies in a contract a mid-level manager for a well-known telecommunications firm had struck for the company, resulting in a multi-million-dollar billing dispute.
When hired, he lied about having a doctorate degree. He also never disclosed that previously, as a school district superintendent (in San Jose, California), he had pleaded guilty to one count of forgery and four counts of grand theft. He was sentenced to one year in jail for stealing $6,200 from student body funds. On the job application he answered, "No" to the question asking whether he had ever been convicted of a crime. The company acknowledged that they would never have hired him had they been aware of his past.
Don't let those with questionable past conduct put your reputation at risk and cause you financial damages! It is imperative to conduct thorough background checks on all employees and contractors prior to employment.
Reliable Background Screening is widely viewed as the experts in the intricacies of the Fair Credit Reporting Act (FCRA) and other background screening regulations. We take the time to explain these to our clients, in a simplified and practical manner, without charging extra for our expert advice. In a heavily-regulated area such as background screening, you want to partner with those who operate with the highest regard to the laws and regulations.
They SHOULD Have Known! is a monthly column written by Brett Troisi, Vice President, of Reliable Background Screening. Like everyone else at Reliable, Brett's mission is to inform and educate the public of the importance of thorough background screening to protect your company and your brand.


To request information or to ask questions regarding background screening call (833) 946-1989 or click above.